Employee Care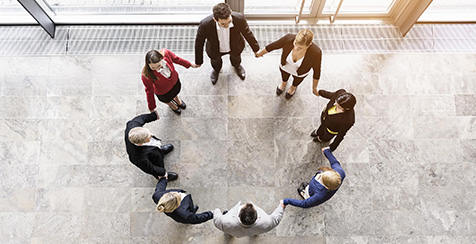 Excellent staffs are inalienable parts of a well-running enterprise, boway always tries its best to construct staff team, adhere people oriented policy, emphasize human care and cultural identity, give employees a full range of care and support in the working environment, housing security, living logistics, recreational activities, children schooling, personal growth and so on. boway has set up Enterprise Welfare Fund to help and exclude the difficult employees suffering from major illness or economic loss. So far, boway has constructed staff housing 1448 sets, helping more than 300 difficult employees.

Customer Relationship

Powerway Group companies always carry out "Customer-centered" management ideas with honesty as a foundation, letting good faith, passion, responsibility, and values fully integrate into our customer relationships. In short, think and feel as the customer does, and then do for them as you would want others to do for you. On one hand, with market-oriented ways, Powerway actively studies the customer desire to develop high performance and better quality products to best meet their needs. On the other hand, however, we use systematic, standardized and informed means to innovate in production, sales, and service for continuously strengthened competitiveness, to reach win-win cooperation, and become a reliable global supplier.

Charity

Help return society, society is a long boway group adhere to the mission and responsibility, to carry out charitable activities is the enterprise to the dedication of the society, it is also the power for the enduring success, we actively, and make unremitting efforts to build a good society.



博威福利资金




捐助资学




捐助医疗卫生




中国绿色碳基金捐款项目
"To help and repay the society" is the mission and responsibility that boway has been insisting for long, and taking part in charitable activities is the contribution our enterprise make to the society and also the motivation to keep long lasting success. We are proactive and making our efforts to build up a good society.

Environmental Protection

boway Group sticks to sustainable development strategy. With energy conservation & environmental protection and product R&D as the support and with energy conversation for society and human's health as the main stream, it accelerates the construction of resource-saving and eco-friendly production mode and operation mode. At the time of realizing low-carbon operation, it promotes the standard formulation of metallurgical industry, facilitates environmental and low-carbon development of metallurgical manufacturing and contributes power to the construction of "green China".
Energy conservation promotes clean production
Powerway Group's great attention to environmental protection, begins at home, so to speak. In 2014 alone, Powerway invested more than 8 million Yuan into environmental equipment renovation and monitoring, and made environmental renovations at Powerway Alloy Binhai & Yulong Factories, the Materialise Factory and the Boviet Vietnam Factory so as to build a globally eco-friendly enterprise. Further, the company will increase environmental equipment renovation input and environmental self-checking so as to realize a win-win-win between the natural environment, society, and the enterprise itself, reflecting the Powerway ethos.
For Health and environmental protection, Powerway develops non-toxic products
Nickel-free copper alloy products developed by Powerway are a solution to eliminating damage to human health caused by Ni-contained copper alloys eyeglasses and to protecting people from dermatitis, nasopharyngeal carcinoma, etc. Meantime, the products help maintain China's status as the world's largest producer of glasses at competitive prices.
The lead-free brass products we developed have solved the problem of plumbum precipitation in applications of electronic telecommunication, home appliances, sanitary hardware and other products to effectively avoid lead poisoning. In addition, Powerway Alloy manufactures silver copper, Cr-Zr-Cu and other high performance alloy materials with excellent machinability, high electrical conductivity, high anti-oxidation, etc., to reduce processing costs and energy consumption.
Our outstanding quality ensures the outstanding performance of terminal product provided to our customers, making Powerway Group products not just cold metal but metal with life, intelligence and feeling.
Green office action" advocacy starts from within the enterprise
Based on investigation results of the office environmental situation, our printing waste rate appears to be up to 40% at times. Over the past ten years, Powerway group advocated for a modern office and thus developed a series of office software packages to substitute paper spreading. The Group generalized "paperless office", "recycling all waste paper", "display screensaver" and other ways to expand new measures of energy conservation and environmental protection effectively, starting from ourselves and protecting environment.
In the future, Powerway Group will advance the utilization of advanced technologies to gain wiser product and service insights, and put them into practice in product R&D, inspection and manufacturing so as to ensure a safer, more environment-friendly. and more intelligent workplace - making people's lives safer, healthier and happier.